SIGHT SEEING
Karuizawa, full of places to see and activities to enjoy
In Karuizawa, you can feel the wind blowing through the groves of white birch and the peace and comfort of nature.
From sightseeing and leisure activities to shopping and sports like golfing and skiing,
Karuizawa is full of places to see and activities to enjoy.
Experience

Nature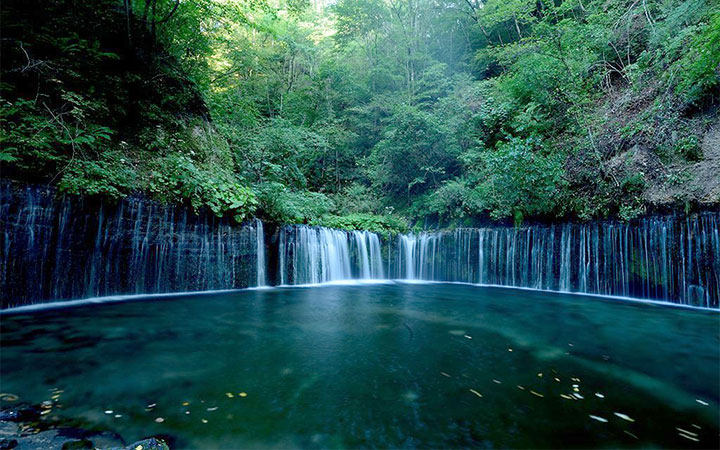 Shiraito Falls
Approx. 30 minutes by car
Shiraito Falls, a waterfall counted among the One Hundred Waterfalls of Japan, is a natural monument of Japan.
Meltwater from Mt. Fuji cascades down the 20-meter-high, 150-meter-wide, curved cliff in hundreds of big and small waterfalls. The white streaks of water that line the wall of the cliff resemble countless silk threads hanging over the water below; a breathtaking sight as though from a dream.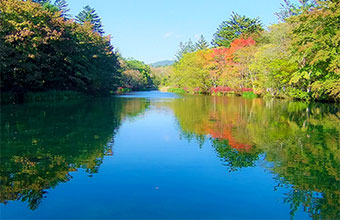 Kumoba Pond
Approx. 15 minutes on foot
Kumoba Pond is a famous spot to see autumn leaves in Karuizawa. The deep red trees and their reflections on the pond create a splendid sight. With beautiful greenery throughout spring and summer, it is one of the top spots around Karuizawa to enjoy seasonal scenery.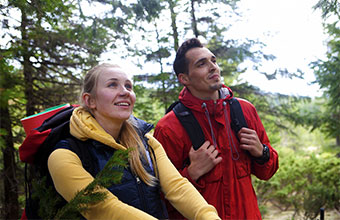 Picchio
Approx. 15 minutes by car
Picchio is a group of eco-tourism experts that provides eco-tours and environmental education. They introduce local animals and plants, and offer nature tours to experience the fascination and wonders of the natural world.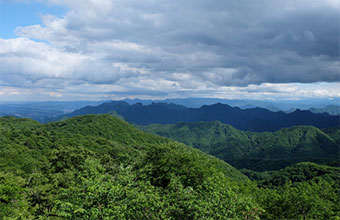 Usui Pass Observation Platform
Approx. 15 minutes by car
This park, on a lookout sitting 1,200 above sea level near the top of Usui Pass, is a famous scenic spot in Karuizawa.
In clear weather, you can enjoy a spectacular panoramic view of Mt. Asama, Mt. Myogi, the Southern Alps, Mt. Yatsugatake, and more.
Watch and Learn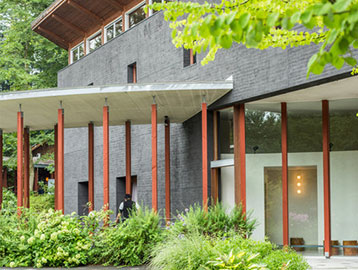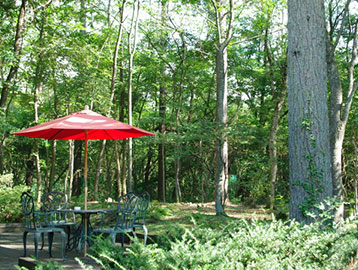 Forest of Muse
Approx. 10 minutes by car
Forest of Muse is a museum-park complex containing Karuizawa Picturebook Museum, Erz Toy Museum, and more. In the Picturesque Garden, a natural garden with wild plants, you can feel the changing of the seasons surrounded by nature.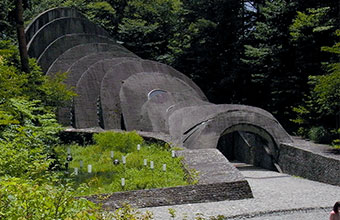 Uchimura Kanzo Memorial Stone Church
Approx. 15 minutes by car
This church was built based on the ideas of the Non-Church Movement established by Kanzo Uchimura, a Christian evangelist in the Meiji period. Its architecture blends into the surroundings, as though it has been standing on this ground since ancient times and is now fused with nature. Underground beneath the church is a museum about Kanzo Uchimura.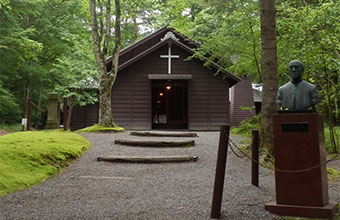 Shaw Memorial Church
Approx. 10 minutes by car
This church, the oldest in Karuizawa, is where Alexander Croft Shaw, who introduced Karuizawa to the world as a summer resort, worked as a missionary. The church is now open to public, and all are welcome to enter and pray.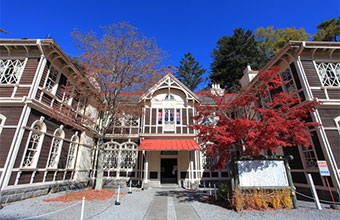 The former Mikasa Hotel, Important Cultural Property
Approx. 10 minutes by car
The former Mikasa Hotel is a piece of thoroughly Western European architecture, designed and built by Japanese engineers. It still retains its past glory of being visited by famous key persons who built the Meiji and Taisho periods. The former hotel was designated an Important Cultural Property of Japan in 1980, and remains a top tourist spot in Karuizawa.
Enjoy

Shopping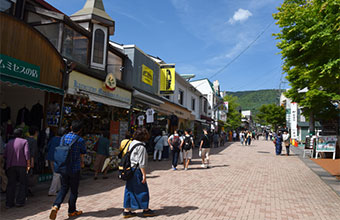 Kyu-Karuizawa Ginza-dori Street
Approx. 20 minutes on foot
Kyu-Karuizawa Ginza is a quaint shopping street known as a must-go tourist spot in Karuizawa. The street is lined with eateries serving local ingredients, gift shops with food and other souvenirs, and stylish shops full of lifestyle goods and clothes.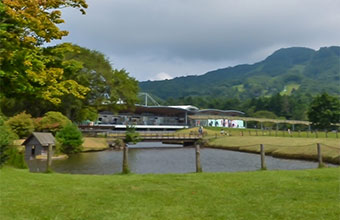 Prince Shopping Plaza
Approx. 14 minutes on foot
Adults and children alike can have fun all day at this shopping mall. Surrounded by rich nature, the mall has about 200 shops of all varieties, including big-name brand outlets, furniture and interior decorations, lifestyle goods, and outdoor goods.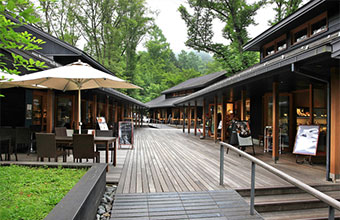 HARUNIRE Terrace
Approx. 10 minutes by car
9 modern buildings are connected with wide wood decks and feel like a "small town" at this tourist spot.
The shopping center is comprised of 15 unique and stylish shops and restaurants.
Enjoy

Sports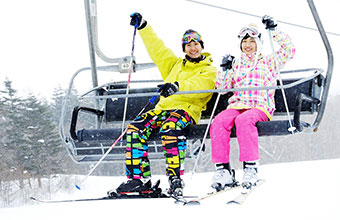 Skiing
When it comes to winter activities in Karuizawa, skiing and snowboarding cannot be missed. Near the station is the Karuizawa Prince Hotel Ski Resort, which is busy with many people, young and old.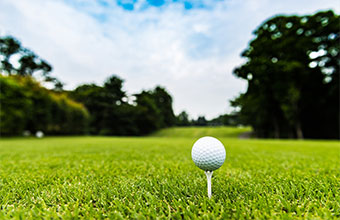 Golfing
Even in midsummer, Karuizawa rarely has days hotter than 25°C, making it the perfect place to enjoy some golf in the fresh, cool air.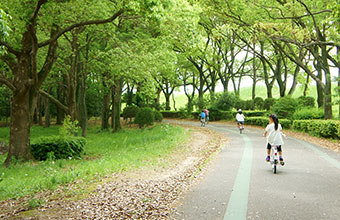 Cycling
Since Karuizawa has a number of sightseeing spots scattered around town, bicycles are the perfect way to tour them. Why not go sightseeing on bike?